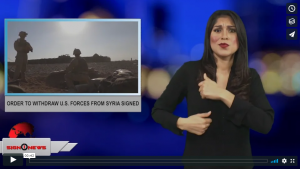 Sign1News delivers news for the deaf community powered by CNN in American Sign Language (ASL).
Transcript
The order to withdraw US troops from Syria has officially been signed.
President Trump made the announcement last week, which was met with international shock.
The decision has caused discord within the Republican Party with allies like Republican Senator Lindsey Graham calling it a grave mistake.
The drawdown of troops is expected to begin in the next several weeks and could take more weeks to finalize.