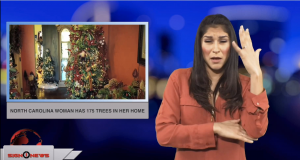 Sign1News delivers news for the deaf community powered by CNN in American Sign Language (ASL).
Transcript
Check this out!
A North Carolina woman named Jeannie Harrison has over 175 Christmas trees inside her house.
She says it started with one tree eight years ago and just got bigger and bigger.
Since that time Harrison says she's had about 1,000 visitors.
She says their mouth's fly open when they see the display. They can't believe it.
Harrison doesn't charge admission but she does ask visitors to bring a canned good for donating.
This is my Christmas tree.
It's a mix between Christmas and Halloween.
It's a white tree decorated with "Nightmare Before Christmas" ornaments.
It's my favorite movie.