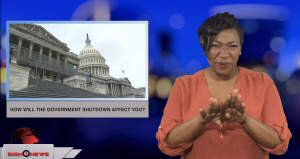 Sign1News delivers news for the deaf community powered by CNN in American Sign Language (ASL).
Transcript
Midnight came and lawmakers still had not reached a deal on a spending bill, leading to a government partial shutdown.
Partial because some government agencies will continue to operate.
The Transportation Security Administration (TSA) will be on the job screening passengers and the Federal Aviation Administration's (FAA) air traffic controllers will still be directing planes.
US Customs and Border protection checkpoints will remain open.
Since the post office does not need federal funds to operate it will not be affected by the shutdown.
Law enforcement officers will keep their schedules as well.
And kids don't worry.
For the last 63 years the North American Aerospace Defense command (NORAD) has tracked Santa through the night as he delivers gifts to boys and girls around the world.
The organization tweeted that even if there is a government shutdown it will continue that tradition.
That's because the military personnel who work on the Santa tracker are volunteers.