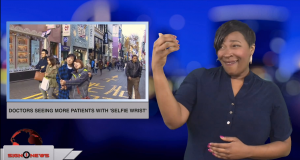 Sign1News delivers news for the deaf community powered by CNN in American Sign Language (ASL).
Transcript
If you're taking too many selfies, you may want to cut back a little.
That's because a San Francisco doctor says he's seeing a rise in "selfie wrist."
Yeah that's a real thing apparently.
It's the name given to the numbness and tingling sensation people can experience in their fingers and wrist, which sometimes develops into sharp pain.
Selfie wrist is caused by hyper-flexing your wrist inwards to capture a perfect selfie angle.
During the summer, Kim Kardashian declared she wasn't taking selfies anymore because of the condition.