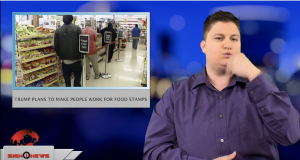 Sign1News delivers news for the deaf community powered by CNN in American Sign Language (ASL).
Transcript
The Trump administration wants to require anyone receiving food assistance to work.
On Thursday the Department of Agriculture unveiled a proposed rule expanding work requirements for those in the supplemental nutrition assistance program or SNAP.
SNAP already requires that non-disabled, working age adults, without dependents have jobs.
If they aren't working or participating in training programs 20 hours a week, SNAP recipients can only get benefits for three months out of every 36 month period.
But states can waive that requirement for areas where unemployment is at least 10 percent or there are not enough jobs.
The new proposal would make it harder for states to receive those waivers and it tightens the definition of areas where there are insufficient jobs.
Also in an unprecedented move, the administration has already started allowing states to require Medicaid recipients to work.