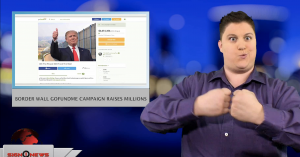 Sign1News delivers news for the deaf community powered by CNN in American Sign Language (ASL).
Transcript
One Florida man may have a solution to Trump's border wall funding problem.
37-year-old veteran Brian Kolfage has started a GoFundMe campaign to raise money for the wall.
The account was created on Sunday.
As of right now it is raised over $6 million.
The goal is $1 billion.
Kolfage says he made contact with the Trump administration and a legal firm to ensure that the government could not use the money for anything but a wall.