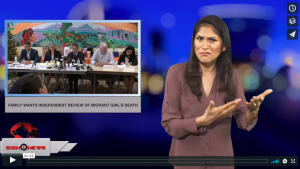 Sign1News delivers news for the deaf community powered by CNN in American Sign Language (ASL).
Transcript
The family of a young Guatemalan girl who died in US custody wants an independent review of the circumstances surrounding her death.
Seven-year-old Jakelin Caal Maquin got very sick on the way to a border patrol station last week.
She was flown to a hospital where she later died.
Today her family's attorney called on the Department of Homeland Security's inspector general to look into the case.
They want the conduct of customs border patrol to be reviewed as well as the decisions they made while the little girl was in their custody.
A delegation of US representatives has also called for an independent investigation into the young girl's death.