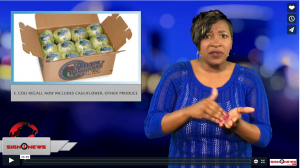 Sign1News delivers news for the deaf community powered by CNN in American Sign Language (ASL).
Transcript
Adam Brothers Farm, the California farm linked to the current romaine lettuce recall, is recalling red and green lettuce and cauliflower.
The farm said they added green leaf lettuce and cauliflower to the recall out of caution.
None of the recalled products has tested positive for E. coli and no one has gotten sick.
The recalled cauliflower and red and green leaf lettuce were harvested between November 27th and 30th and distributed in several states.
The CDC recently linked romaine lettuce grown in northern and central California to an E. coli outbreak that sickened 60 people.