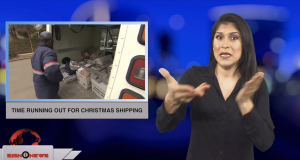 Sign1News delivers news for the deaf community powered by CNN in American Sign Language (ASL).
Transcript
This week is expected to be one of the busiest for shopping and deliveries.
The United States Postal Service says it expects to process and deliver nearly 3 billion pieces of first-class mail.
The Postal Service says packages mailed through them need to be sent out by Thursday, in order to make it for Christmas eve.
For other shipping services, packages need not need to go out earlier.
FedEx says Monday, is its deadline for ground and home delivery.
UPS says you have until Tuesday, to ship under its most affordable delivery option, the "three-day select", and still make it on time.