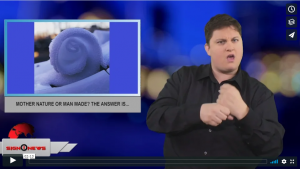 Sign1News delivers news for the deaf community powered by CNN in American Sign Language (ASL).
Transcript
Remember this?
This is the picture we showed you during yesterday's show.
It was sent to us by a Deaf woman named Samantha Luna from Charlotte, North Carolina.
It shows a beautiful ice formation, so beautiful that dozens of our viewers thought it was man-made, others say it was formed naturally.
Thank you to everyone who shared your thoughts on "man-made versus Mother Nature."
Well, check out this picture.
It was sent to us by Sign1News viewer Chrissy Siewertsen Benvenuti and it shows a football field full of ice formations just like the one sent to us by Samantha.
Samantha sent us a video explaining the mysterious ice formation.
I arrived at work around 7:30 and it was freezing with ice from what was left on the snow.
It was frozen enough for me to see it.
And as I was walking I noticed the car. A lot of people thought I rolled it myself but I didn't. If I did, it would have a line from where I rolled it up but it is connected to the windshield.
How it happened? I have no idea. In fact there was another car over there that had same ice formation but it already left. It is really beautiful and cool.