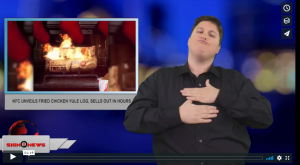 Sign1News delivers news for the deaf community powered by CNN in American Sign Language (ASL).
Transcript
KFC is introducing something new for the holidays but it's not on the menu.
It's a fire log that smells like fried chicken.
KFC tweeted about the limited edition logs Thursday morning.
A few hours later, the logs sold out!
The logs came with a note from Colonel Sanders: "When the weather outside gets frightful, just throw one of my logs on the fire, sit back and enjoy the delicious smells of my fried chicken in complete, cozy bliss."
The logs also have warnings like: "May result in a craving for fried chicken" and "May attract bears or neighbors who are hungry."
The logs were available at www.KFCfirelogs.com but company officials have not said whether they're going to order more.