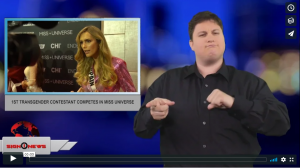 Sign1News delivers news for the deaf community powered by CNN in American Sign Language (ASL).
Transcript
This weekend's Miss Universe in Bangkok will be historic.
Miss Spain's Angela Ponce is the contest's first-ever transgender contestant since the 2012 reversal of a long-standing policy that says Miss Universe participants must be naturally born women.
The 27-year-old says she is proud and has a lot of pride with her role.
Ponce says she entered the fashion world a decade ago and has been a beauty contest the last three years.
Those who bet on this event say Ponce is a favorite in Sunday's competition.