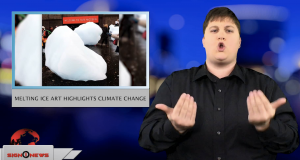 Sign1News delivers news for the deaf community powered by CNN in American Sign Language (ASL).
Transcript
You've probably heard of ice sculptures.
But, a London Museum now has a display of melting ice art.
You can find this display in front of the Tate Modern Museum in London.
It is the work of a Scandinavian artist and geologist.
The display is made up of 24 melting iceberg pieces.
According to the museum, the ice sculptures were fished out of a 'fjord' in Greenland, after being detached from an ice sheet.
The museum says artists hope visitors understand the reality of climate change by viewing the exhibit called "Ice Watch."