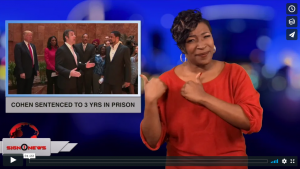 Sign1News delivers news for the deaf community powered by CNN in American Sign Language (ASL).
Today, a federal judge in New York sentenced President Trumps former attorney, Michael Cohen, to three years in prison.
Cohen said he takes full responsibility for his actions while working for Trump.
In August, Cohen pled guilty to 8 criminal counts against him including campaign-finance violations tied to President Trump.
Cohen admitted making illegal hush money payments to women who claim they had affairs with the President before he took office.
Cohen was also ordered to pay $1.39 million in restitution, forfeit half a million dollars and pay a $50,000 fine.
He has been ordered to surrender March 6.
The judge recommended Otisville prison in upstate New York for Cohen's sentence.