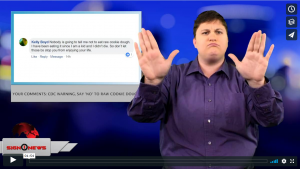 Sign1News delivers news for the deaf community powered by CNN in American Sign Language (ASL).
Transcript
On Sunday we told you about the CDC's warning to say "no" to eating raw cookie dough.
The CDC urged people to resist the temptation to taste the raw dough because of the dangers of possible bacteria and salmonella contamination.
Well… several Sign1News viewers are saying "no" to the CDC's warning.
Many of you grew up eating raw cookie dough and licking the cake batter, you still do it and you don't plan on stopping now.
Okay, I have let you know this may be a little disgusting and I understand but I simply love rolling out raw cookie dough in slices of bologna.
Hey… don't judge me.
Anyway here are some of your comments from our Facebook page.
Kelly Boyd put her foot down and said "Nobody is going to tell me not to eat raw cookie dough. I've been eating it since I was a kid and I didn't die. So don't let that b-s stop you from enjoying your life."
Steven Triplett agrees. He says "No way! Tell the CDC that I'm still alive. Stop making things up to scare people."
Elspeth Perry says when she was a kid she always loved to eat raw cookie dough and never got sick. She still does it now and she feels just fine.