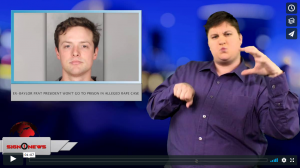 Sign1News delivers news for the deaf community powered by CNN in American Sign Language (ASL).
Jacob Anderson, the former president of a Baylor University fraternity, will not spend a single day in prison despite being indicted on sexual assault charges.
A woman accused Anderson of brutally raping her back in 2015.
Anderson was originally indicted on four counts of sexual assault.
Anderson was sentenced Monday after pleading no contest to a lesser charge of unlawful restraint.
Anderson will now have to complete three years of deferred probation and pay a $400 fine.
If he follows the deal, supposedly the charge will be taken off of his record and he will not have to register as a sex offender.