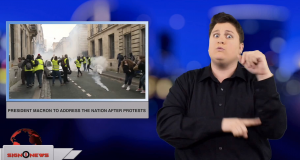 Sign1News delivers news for the deaf community powered by CNN in American Sign Language (ASL).
Transcript
For the past month, protesters have taken to the streets in France.
The "yellow vest" movement began in response to the country's fuel price hikes and then evolved into a broader protest against President Emmanuel Macron's government.
Around 125,000 protesters took to the streets of France on Saturday.
974 protesters are now in custody, 134 have been wounded and four people have been killed.
Earlier this week Macron announced tax hikes would be suspended and not going into effect next year as planned.
That announcement did little to calm protesters.
Tomorrow Macron is expected to meet with business leaders, trade unions, political leaders and local officials to hear their voices and their proposals.
Then he will address the nation.
Sources say his speech will center around national unity and urge the yellow vest protesters to seek dialogue to end the protests.