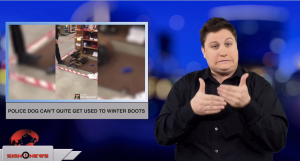 Sign1News delivers news for the deaf community powered by CNN in American Sign Language (ASL).
Transcript
We dare you to watch this video without cracking up.
Members of the Rapid City police department decided to buy new snowshoes for police dog "Jary."
And…well…let's just say it took Jary some time to get the hang of it.
All silliness aside, it's important to remember that pets get cold just like humans.
So if you take them out into the elements, make sure they're properly bundled up.