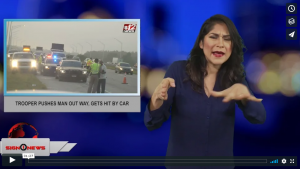 Sign1News delivers news for the deaf community powered by CNN in American Sign Language (ASL).
We want to warn you: the video you are about to see may be disturbing to watch.
But thankfully the story has a happy ending.
Florida Highway Patrol trooper Mithil Patel was investigating a car crash on the side of the road when a van rear-ended another car, causing it to spin and slam into the trooper.
But a split second before he was hit, Patel was able to push a man out of the way before he got hit too.
Patel suffered a concussion as well as bruises and lacerations but incredibly no bones were broken.
At a press conference on Friday, Patel was lighthearted and cracked jokes throughout his speech.
Making reference to gymnastics, Patel said "Unfortunately I didn't land perfect. I didn't get a 10, I got a zero on that one. I gotta practice more at home I guess."