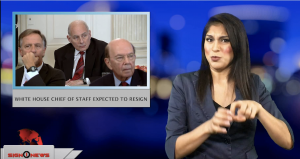 Sign1News delivers news for the deaf community powered by CNN in American Sign Language (ASL).
Transcript
White House Chief of Staff John Kelly could be on his way out.
Two sources tell CNN Kelly is expected to resign in the coming days.
They say Kelly and President Trump have reached a stalemate in their relationship.
Kelly has seen his status as Chief of Staff diminished in recent months with the president circumventing many of Kelly's policies and protocols.
In July Kelly told White House staff Trump had asked him to stay on for at least two more years and that he had agreed.
But sources say the two have recently stopped speaking and that Trump is actively discussing his replacement.