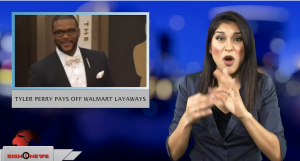 Sign1News delivers news for the deaf community powered by CNN in American Sign Language (ASL).
Transcript
Actor and filmmaker Tyler Perry shared a video on Twitter announcing that he paid off all the layaways at two Walmart stores in Atlanta.
His original intention was to stay anonymous but a Walmart spokesperson confirmed Perry paid off $432,635 worth of layaway items.
Perry said a lot of people are struggling and he is grateful to be in a position to help.
He ended the video by saying "God bless, go get your stuff, Merry Christmas."