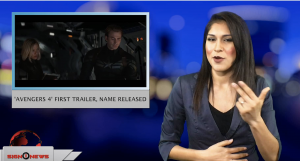 Sign1News delivers news for the deaf community powered by CNN in American Sign Language (ASL).
Transcript
Much to the excitement of fans, the trailer for the fourth film in the Avengers franchise has arrived.
The highly-anticipated blockbuster is entitled "Avengers: Endgame" and it features the return of popular characters Ironman, Captain America, Black Widow, Dr. Strange, Spiderman, Thor, Hulk, Ant-Man and Black Panther.
The trailer sets up what happened after the superhero team lost their battle in their third film "Avengers: Infinity War."
"Avengers: Endgame" hits theaters May 3, 2019.