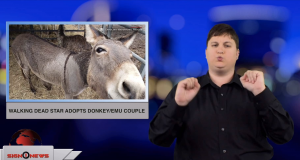 Sign1News delivers news for the deaf community powered by CNN in American Sign Language (ASL).
Transcript
Jack and Diane are a male donkey and a female emu who became an unlikely pair of best friends.
There were found together in a seemingly abandoned North Carolina farm.
Carolina Waterfowl Rescue, a nonprofit bird sanctuary, took them in.
Staffers say the pair were strongly bonded and didn't do well when separated.
They say the animals ate every meal together and slept side-by-side.
But now the adorable pair have a forever home with a celebrity caretaker.
Walking Dead actor Jeffrey Dean Morgan adopted the animals to keep them from being separated.
Jack and Diane are now living together at Morgan's farm in New York.