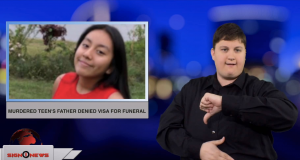 Sign1News delivers news for the deaf community powered by CNN in American Sign Language (ASL).
Transcript
13-year-old Hania Aguilar was abducted outside her home in early November.
Authorities say a body found last week was preliminarily identified as Aguilar, though a final confirmation will be made using dental records.
Unfortunately the girl's Guatemalan father has been denied a temporary visa to enter the US for her funeral.
An online petition requesting a temporary visa garnered more than 50,000 signatures.
The father's lawyer says officials denied the visa because the father doesn't have enough ties to the country.
The FBI is offering a $25,000 reward in Aguilar's case and the state of North Carolina is offering a $5,000 reward.