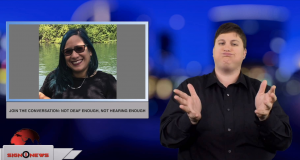 Sign1News delivers news for the deaf community powered by CNN in American Sign Language (ASL).
Transcript
Be sure to tune into our Sign1News Facebook live chat tomorrow night at 6 o'clock.
Our guest will be Nilsa Rivera Castro.
She is an author and guest writer for Huffington Post.
Recently she shared her struggle of being stuck between two worlds: she is hard of hearing but not hard of hearing enough to be considered part of the Deaf world and not hearing enough to be considered a part of the hearing world.
Where does she belong: in the hearing world or the Deaf world?
It's a struggle many people face.
We would love to add your voice to the conversation.
Share your comments, thoughts or questions on our Facebook page under this story link and we will read some of your comments during the live discussion tomorrow.