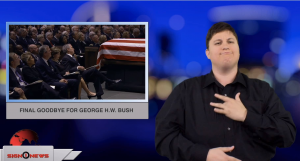 Sign1News delivers news for the deaf community powered by CNN in American Sign Language (ASL).
Transcript
Following a moving state funeral in Washington, DC yesterday, the body of former President George H. W. Bush made its way back to Houston where loved ones held a private, more intimate service this morning.
The sendoff was fit for a war hero.
Family and friends attended the final farewell at St. Martin's Episcopal Church in Houston.
Touching tributes were delivered by the former president's Secretary of State James Baker III and his grandson George P. Bush.
He affectionately referred to the former president as "Gampy."
Bush's final goodbye wrapped up with a journey aboard the Bush 4141, a rare locomotive commissioned in 2005 to honor the president.
The train, once operated by Bush himself, carried him to his final resting place at his presidential library in College Station, where he would be interred beside his late wife Barbara and their daughter Robin.