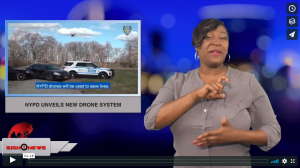 Sign1News delivers news for the deaf community powered by CNN in American Sign Language (ASL).
The NYPD unveiled a fleet of drones, yesterday.
NYPD officials say the aircraft will be used for hostage situations, search and rescue, hazmat spills and crowd monitoring.
Civil liberty advocates are worried the drones will be used to violate citizens' privacy.
The police chief says more than 900 police and fire units around the country use drones in some form and the NYPD has policies to protect such invasions.
The New York Civil Liberties Association says police could use drone footage to build a database of private political activity and intimate behavior.
Most states have laws governing how law enforcement agencies can use drones.