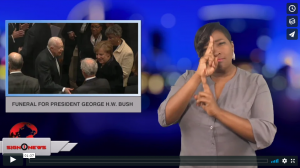 Sign1News delivers news for the deaf community powered by CNN in American Sign Language (ASL).
The first president of the United States, George H.W, Bush, was honored this morning at a State Funeral in Washington.
Presidents, politicians and foreign dignitaries gathered together at the National Cathedral to say goodbye.
George W. Bush eulogized his father, calling him optimistic and a patriot.
Pres. Trump was one of the guests in attendance despite previous tensions with the Bush family.
Bush made it clear before his death, that he wanted to invite the current president to the State Funeral and put aside personal differences and follow protocol.
George H.W. Bush was a man who dedicated his life to serving his country.
And he was remembered by his family as a loving husband father and grandfather.
After the service, the casket was taken to Joint Base Andrews for transport back to Texas.
Bush will be laid to rest next to his wife and daughter in a private ceremony, Thursday at his presidential library in college station.