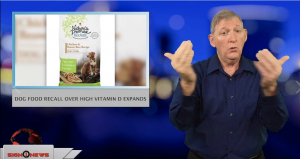 Sign1News delivers news for the deaf community powered by CNN in American Sign Language (ASL).
Transcript
Hello everyone! I'm Bob Green, guest anchor for Sign1News.
In addition to the beef recall Candace just mentioned, now more dog and puppy food is being recalled because of toxic levels of vitamin D.
That could lead to kidney failure for your pet.
Last week's recall included Sunshine Mills' Evolve For Puppies, Sportsman's Pride for Large Breed Puppies and Triumph's chicken and rice.
Now the recall has expanded to several more brands including Nutrisca, Natural Life, Abound and Nature's Promise.
The affected bags have different recipes and dates so be sure to check out the FDA's website for a complete list.
If you bought any of the recalled products, you can return them to the seller for a refund.