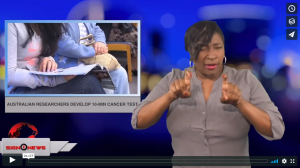 Sign1News delivers news for the deaf community powered by CNN in American Sign Language (ASL).
Scientists in Australia have developed a 10-minute cancer test.
They found that cancer forms a unique DNA structure when placed in water.
The new cancer test identifies the presence of that structure.
Researchers think their discovery could detect cancer in humans earlier than the previous methods.
The earlier cancer is detected, the greater the chances that therapeutic treatments and surgery could be successful.
The test has not been used on humans
Trials are needed for prospective patients.
Results have been published in the journal, Nature Communications.