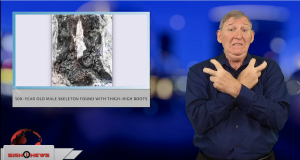 Sign1News delivers news for the deaf community powered by CNN in American Sign Language (ASL).
Transcript
An archaeology company in England recently shared images of a 500-year-old male skeleton that was discovered still wearing a pair of knee-high boots.
The team found the remains along the River Thames in London.
Researchers say the leather was very expensive at the time of the man's death, which means he would not likely have been buried wearing his boots.
He probably died prematurely with the boots on, although the cause of death is unknown.
The discovery has prompted further investigation.