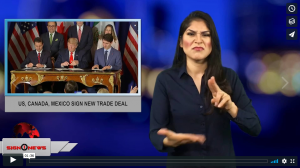 Sign1News delivers news for the deaf community powered by CNN in American Sign Language (ASL).
US president Donald Trump, Canadian Prime Minister Justin Trudeau and outgoing Mexican president Enrique Pena Nieto just signed a deal that replaces the North American Free Trade Agreement (NAFTA).
The ceremonial signing took place Friday in Argentina at the G-20 summit.
The new deal is called the "United States-Mexico-Canada Agreement" or the "USMCA."
But it is not going into effect anytime soon.
The agreement still needs Congressional approval in Washington and key members of both political parties are already expressing significant concerns about the new deal.
However President Trump is already putting pressure on Congress by giving them a six-month deadline to make a decision.
And since Trump says he plans to terminate NAFTA anyway, that means Congress only has two choices — approve USMCA or risk having no trade deal in place at all.