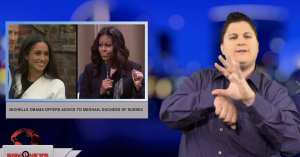 Sign1News delivers news for the deaf community powered by CNN in American Sign Language (ASL).
Transcript
Former First Lady Michelle Obama is sharing advice for Meghan, the Duchess of Sussex.
The British magazine "Good Housekeeping" published an interview with Mrs. Obama on Monday.
In it, she said her biggest piece of advice to Meghan would be to take some time and don't be in a hurry to do anything.
Obama admitted that a lot of pressure comes with their work.
She encouraged the Duchess to pursue issues that stir her passions.
Both women have made empowering women and girls a priority.
Obama was in Europe promoting her new book "Becoming."
However on Twitter she announced she was canceling visits to Paris and Berlin.
She will instead attend the funeral of former President George H.W. Bush Wednesday.