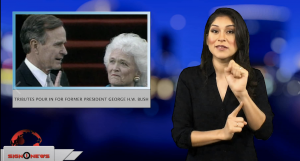 Sign1News delivers news for the deaf community powered by CNN in American Sign Language (ASL).
Transcript
Tributes are pouring in from all over the world for the 41st president of the United States, George Herbert Walker Bush.
He died Friday night in Houston at the age of 94.
Flags at the White House were lowered to half staff immediately after hearing the news of his death.
Right about the same time, people started showing up outside Bush's house in Houston to start a memorial with flags and flowers.
We've also learned stock markets will close on Wednesday to honor the former president's memory.
The New York Stock Exchange said it will also observe a minute of silence on Monday.
Mister Bush was born in Milton, Massachusetts on June 12, 1924.
He married Barbara Pierce and they had six children.
Two of those children, sons George H. and Jeb would follow his footsteps into politics.
After earning a degree at Yale, Bush moved his family to Texas where he made a fortune in the oil business.
It was here in Texas where his interest in Republican politics blossomed.
Bush ran against Ronald Reagan in the 1980 GOP primary but Reagan believed Bush could help him win over the party's moderate and named him as Vice President.
Eight years later, in 1988 Bush became the 41st president of the United States.
In 2011, he received the nation's highest civilian honor: the Presidential Medal of Freedom.
At his beloved wife Barbara's funeral earlier this year, President Bush posed for a photo with the other surviving former presidents.
All could see the years had taken its toll on his body.
But dignity and resolve shined through, part of a graceful final act in a life of public service.
Today the family sent out the official invitation for Bush's state funeral.
The funeral will be held on Wednesday at the National Cathedral in Washington, DC.
President Trump was invited and accepted the invitation.