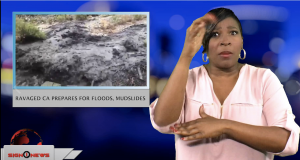 Sign1News delivers news for the deaf community powered by CNN in American Sign Language (ASL).
Transcript
In California, earlier this year parts of the state were burned by major wildfires.
Now heavy rains are a problem.
Flash floods are rushing through areas recently scorched by wildfires.
Yesterday, fighters with help from the Highway Patrol and a helicopter, rescued a man clinging to a tree in the Los Angeles River.
Authorities say, after a wildfire, heavy rains can cause rapid landslides in burned areas.
That's why mandatory evacuation orders have been issued in some places.
Some residents have left the threatened, areas but others have not.