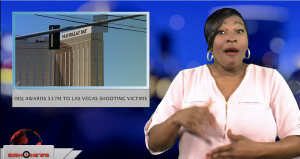 Sign1News delivers news for the deaf community powered by CNN in American Sign Language (ASL).
Transcript
The Justice Department awarded nearly $17 million to support victims of the mass shooting, last year in, Las Vegas.
The shooting took place last October during a country music festival.
58 people were killed, and hundreds were injured.
They awarded another $16.11 million to help survivors.
The Acting Atty. Gen. made the announcement this morning in Cincinnati.
The money will be available for all victims of the incident including ticketholders, concert staff vendors, witnesses, law enforcement personnel and other first responders.