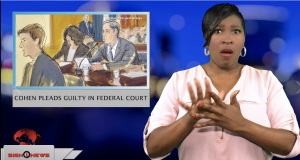 Sign1News delivers news for the deaf community powered by CNN in American Sign Language (ASL).
Transcript
Yesterday, Pres. Trump's former, personal attorney, Michael Cohen, pled guilty to charges connected to the Russia investigation.
He pleaded guilty to making false statements to Congress after charges were filed by special counsel, Robert Mueller.
Cohen waived his right to an indictment during the proceedings.
According to the prosecutor, Cohen lied when he said the possibility of a Trump Tower deal in Moscow ended in January 2016.
He admitted to discussing the project with president Trump up until June 2016, after the president was elected.
Cohen will be sentenced December 12.