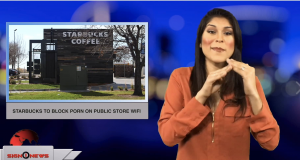 Sign1News delivers news for the deaf community powered by CNN in American Sign Language (ASL).
Transcript
According to Business Insider, Starbucks will use a new Wi-Fi technology next year.
The technology will stop customers from watching pornography on Starbucks free public
Wi-Fi.
Starbucks did not give details on how it will work.
But says it will also block users from viewing other explicit content.
Starbucks has been under pressure to block pornography for years.
Watching pornography is already banded at Starbucks locations.
But there aren't blockers on the stores current Wi-Fi.