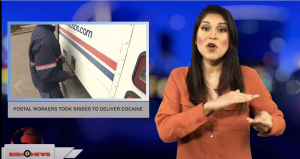 Sign1News delivers news for the deaf community powered by CNN in American Sign Language (ASL).
Transcript
Today, the US Attorneyís Office said in a statement that postal workers took bribes to deliver cocaine and marijuana back in 2015.
They also said drug traffickers bribed the postal workers sometimes with amounts as low as $250.
The guilty workers range in ages from 26 to 64.
Their sentences are 3 to 9 years in federal prison.
In addition to jail time, the former workers will pay hundreds of thousands of dollars in fines.