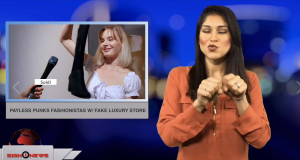 Sign1News delivers news for the deaf community powered by CNN in American Sign Language (ASL).
Transcript
Payless shoes finally found a good reason to pay more by "punking" social media influencers.
The retailer set up a fake luxury shoe store called it "Paylessi" and filled it
with their discount shoes price ridiculously high.
They invited prominent social media 'fashionistas' who bragged about the sophisticated footwear made with high-quality materials.
Then they paid $200… $400 even $600 for shoes normally priced between $20 and $40.
Eventually, Payless let them in on the joke, refunded their money and let them keep the shoes.
The company plans on using the footage for a series of upcoming ads.