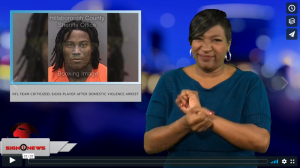 Sign1News delivers news for the deaf community powered by CNN in American Sign Language (ASL).
Three days ago NFL linebacker Reuben Foster was arrested in Tampa, Florida and charged with domestic violence for allegedly pushing and slapping a female companion.
The San Francisco 49ers waived him the same day.
But yesterday the Washington Redskins picked up Foster off waivers.
That decision sparked outrage from critics, some saying it sends a vile, inexcusable message about domestic violence.
The Redskins issued a statement saying they fully understand the severity of the allegations against Foster and he still has to go through numerous steps in the legal process before playing.
However after discussing the situation with current players and receiving their support, the team decided to take a chance on Foster.