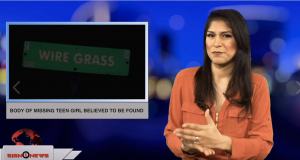 Sign1News delivers news for the deaf community powered by CNN in American Sign Language (ASL).
Transcript
The massive manhunt for a kidnapped 13-year-old girl named Hania Aguilar, has stopped.
Police say her body was found in a body of water in Robeson County around 5 PM yesterday, only 10 miles from her home.
A final confirmation will be made with dental records.
Aguilar was last seen alive November 5, by a neighbor who says she saw her being forced into SUV outside of her home.
This was while she was waiting to go to school.
The witness says a man was wearing all black with a yellow bandanna over his face.
Authorities said they have no reason to think Aguilar knew her abductor.
Her family is cooperating with the investigation, as well.
There is a $30,000 reward leading to the capture of the person or persons who did this.
Investigators asking for anyone with any information to call the
tip line at line 910-272-5871.