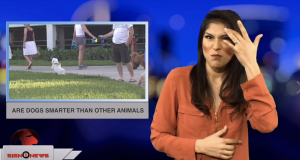 Sign1News delivers news for the deaf community powered by CNN in American Sign Language (ASL).
Transcript
A new study suggests dogs aren't as smart as we think they are.
This comes from a new study in the journal "Learning and Behavior."
It compares how dogs learn to other carnivores, social hunters and other domestic animals.
Researchers used existing behavior information of wolves, cats, dolphins, chimps and other animals
to see to see if dogs possessed any special skills not found in other species.
But they did not.
However, dogs are slightly above average when it comes to social learning, especially when taking cues from humans.