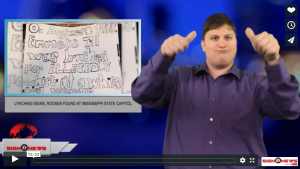 Sign1News delivers news for the deaf community powered by CNN in American Sign Language (ASL).
Yesterday someone put up lynching signs outside Mississippi's state capitol in response to the state's racially-charged special runoff Senate election today.
One of the signs said the point of the display was to remind people that times haven't changed.
One sign referenced the 1955 murder a 14-year-old black teen Emmett Till in Mississippi.
GOP candidate Cindy Hyde Smith continues to face backlash for making a joke about watching a public hanging.
Her opponent Democrat Mike Espy is hoping to become the first African-American Mississippi Senator in more than 100 years.
Governor Phil Bryant released a statement Monday condemning the display and said law enforcement is working to find those responsible.