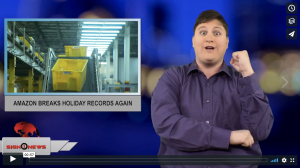 Sign1News delivers news for the deaf community powered by CNN in American Sign Language (ASL).
Yesterday we told you we would let you know how much money online retail giant Amazon hauled in on Cyber Monday.
Well it's going to take some time for the final dollar amounts come in but Amazon execs say the company broke its own record.
This year Cyber Monday was the single biggest shopping day in the company's history.
In fact the online retailer says from Thanksgiving to Cyber Monday customers ordered more than 180 million items.
Toys and electronics were some of the most popular items that landed in people's carts.
Other bestsellers included Amazon's voice-activated Echo Dot, instant pots and ancestry DNA tests.