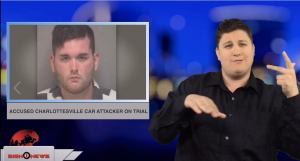 Sign1News delivers news for the deaf community powered by CNN in American Sign Language (ASL).
Transcript
Jury selection began today for 21-year-old James Fields, Jr.
He's the man accused of killing a woman during a white nationalist rally last year in Charlottesville, Virginia.
Prosecutors say he drove his car into a crowd of people protesting the rally, killing Heather Heyer and injuring dozens of others.
Fields faces life in prison in Virginia.
But he also faces federal hate crime charges that could bring the death penalty.