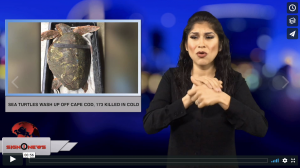 Sign1News delivers news for the deaf community powered by CNN in American Sign Language (ASL).
Environmentalists say extremely cold temperatures off Cape Cod have caused the deaths of dozens of sea turtles.
These pictures are courtesy of Mass Audubon.
The environmental group says 227 cold-stunned turtles have been recovered from the Gulf of Maine since Wednesday.
Of those turtles, 173 are dead.
The group says the 54 survivors are being warmed and will be shipped to other aquariums for eventual release.