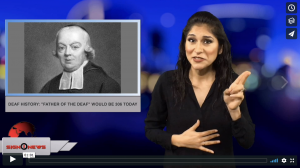 Sign1News delivers news for the deaf community powered by CNN in American Sign Language (ASL).
Today is an important day in Deaf history.
On November 24, 1712 Abbe Charles Michel de l'Epee was born.
He is the French educator who founded the first public school for the deaf, a school that was open to all deaf students regardless of their ability to pay.
Many people mistakenly believe l'Epee invented sign language when in fact he was taught to sign by two deaf girls.
He is, however, the first person to create a system to teach sign language to deaf people, dispelling the myth that deaf people were not able to learn.
Thank you Charles Michel de l'Epee!