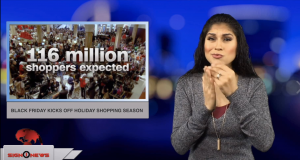 Sign1News delivers news for the deaf community powered by CNN in American Sign Language (ASL).
Transcript
Right after Thanksgiving dinner yesterday, millions of people headed straight to the stores hoping to get an early start on Black Friday deals.
The National Retail Federation estimates 116 million shoppers will take advantage of early discounts.
That could equate to $720 billion in sales.
And with every purchase you make, retailers will get a lot of clues about how your shopping ñ online, mobile or in-store, where your shopping ñ department store, big box or discounter and how much you might spend beyond this weekend.
Retailers know consumers like to shop all through the holiday season, not just on Black Friday, and they like to wait on last-minute deals and promotions on something they want.
So retailers are hoping people will be shopping all the way up until Christmas Eve.