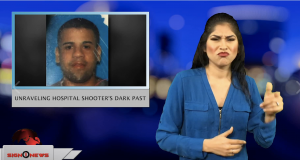 Sign1News delivers news for the deaf community powered by CNN in American Sign Language (ASL).
Transcript
In sadder news…
People gathered Wednesday evening in Chicago to remember Doctor Tamara O'Neal, pharmacy resident Dayna Less and police officer Samuel Jimenez.
All three were killed by 32-year-old Juan Lopez during a shooting rampage at Mercy Hospital.
Police say Lopez attended church with his ex-fiance O'Neal the day before he confronted her in the hospital parking lot, demanding his engagement ring back before shooting her.
O'Neal's father said she had called her engagement off in September but Lopez couldn't accept that their relationship was over.
In 2014 Lopez was dismissed from Chicago's fire academy nine weeks after he was hired.
He never showed up for a disciplinary hearing related to bullying issues.